Cooperation Makes the Golden Rule Shine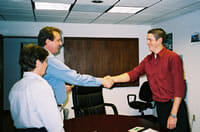 For The Family creates partnerships that connect every level of the community. Our services apply the collective strength of individuals and organizations that understand the bottom line benefits of helping vulnerable families get stronger. It's another way that our agency gives life to the Golden Rule and encourages people to be their brother's keeper.
We are proud to be associated with the people we serve and work with, but it's just the beginning once our resources catch up to our collaboration.
We build individual partnerships between Mentors and Associates in our Parental Mentoring Initiative and Motherhood Mentoring Initiative. Click here if you are interested in becoming a Mentor.
We also build partnerships that give a voice to the vulnerable in our Family Town Hall Series.
Our agency is closely aligned with a wealth of secular and faith-based organizations. They include the Hillsborough County School System, Central Hillsborough Healthy Start, Positive Spin, Neighborly Care Network, Gracepoint Wellness, Pastors on Patrol, the Upper Pinellas Ministerial Alliance, the University Area CDC, Greater Palm River CDC, Childs Park YMCA, and many others.
For The Family also actively participates in the Hillsborough County Local Planning Team, the Florida Circuit 13 Behavioral Health Consortium, the Full Service Centers Partnership of Hillsborough County Schools, Pastors on Patrol Advisory Board, South Pinellas County Community Council, South St. Petersburg Wrap Around Services Collaborative, and many others.
 At the end of the day…We're ALL In This Together!