Parental Mentoring Initiative
Every Child Gains When Parents Gain Strength
Raising children can be a handful.  You can guide parents of kids 11-17 toward their own solutions.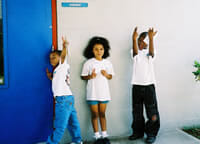 You'll also keep troubled kids from taking a bite out of parents.
Please click here to enroll as a Mentor.
You only need an hour (or less) per week on the telephone from the comfort of home
The person you mentor is going through stuff that you can relate to, but it isn't too much to handle
You make every call according to your schedule; they cannever call without your consent
The person you mentor only knows you by first name (and vice-versa)
You know what they're going through in advance; they know what you bring to the table
We're there if the conversation goes off course, and mental health professionals are on call
Your dialogue only lasts as long as you think it's doing any good
All information is totally confidential
Your wisdom can make happiness happen!