The clock is ticking on more than just "60 Minutes"…
A lot of people are convinced that America is losing its way. For many, optimism is being replaced by fear about the future. More people feel more vulnerable at a time when our country seems unfocused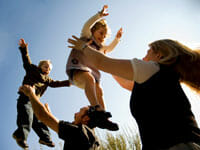 on what really matters.
For The Family focuses on easing the challenges that make families vulnerable. We also give vulnerable people the chance to remind everyone that we are our brother's keeper. Our community's focus on doing the right thing fades when "We're all in this together" is distracted by the fool's gold of "I've got mine." (NOTE: The smaller font of "I've got mine" is intentional)
Because of work and other responsibilities, many parents put their problems on the back burner. Too many feel like it's up to them alone to find a way out. This enables difficult situations to cause permanent damage. The Family Referral Network conveniently guides parents toward their own unique solutions before that happens.
Meanwhile, essential community services that help vulnerable people are either lost, reduced, or inadequate. Our Family Town Hall Series shows how practically everyone can become vulnerable at a moment's notice.
Our efforts will be as successful as the giving spirit within our community. It is in that spirit that we thank you for your interest in making life better For The Family…and for us all.
It's Never Too Late to Work Together